Welcome to Author Chris Coad Taylor's web site.
Secrets of Havenridge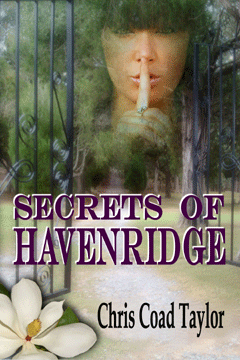 The game Clue comes to Mayberry U.S.A.
Secrets of Havenridge is a heart-warming, suspenseful story of one women's struggle to overcome grief. Told by Stephanie Oliver, who takes you on her journey as she moves from Florida to the small town of Havenridge Georgia in search of a new life.
Keeping her past a secret, she hopes to make new friends in town. Stephanie buys an old Victorian house to refurbish and begin her new life but it's not long when she discovers she is not the only one in the town keeping secrets and a hidden past.
The story of her first year living in the quaint town takes surprising turns as she seeks peace, forgiveness and discovers that we are all connected. Ultimately, Stephanie learns to trust in the kindness of others, forming bonding friendships and three women's lives are changed forever.
AMBER MOON AND THE RAINBOW MURDERS (June 2011)
A Cocktail of Love and Terror
Amber Moon and the Rainbow Murders is a psychological thriller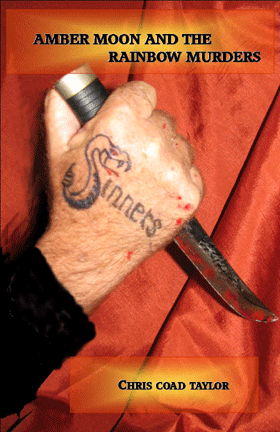 inspired by a 2003 crime in Tampa, Florida.
Life seems perfect for the beautiful interior designer, Amber Moon. Recently, she has made friends with a group of creative gay artists and has met a handsome man who is not threatened by her independence. Comfortable in a passionate relationship and surrounded by good friends Amber is happier than she has been in years—until a serial killer shows up in town. The maniac is targeting the gay community and Amber fears for her new friends.
Soon the killer crosses over the line and targets straights as well as gays. The discovery of more bodies near downtown Tampa in Ybor City proves no one is safe and terror runs through the community. Amber fears not only for her friends but for herself too.
Amber Moon's dream world turns into a nightmare as the killer stalks her, calling and sending notes threatening she must repent or die.
_______________________________________
As in real life, the characters in her books have many layers that unfold chapter-by-chapter filling Chris Coad Taylor's books with surprise and suspense. Page-by-page, they leave you with a hunger to read more.
"My character-driven books have diverse storylines. The characters in my novels, while very different and complex, reveal universal concerns and emotions.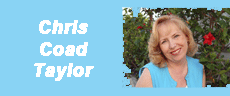 No matter what the storyline, it is through this human attachment with the characters that make each story come alive. I add some suspense and a little mystery with a twist of surprise to the recipe. If my readers find they can't stop thinking about the story and talk as if they actually know my characters, then I have done my job well."
Chris Coad Taylor